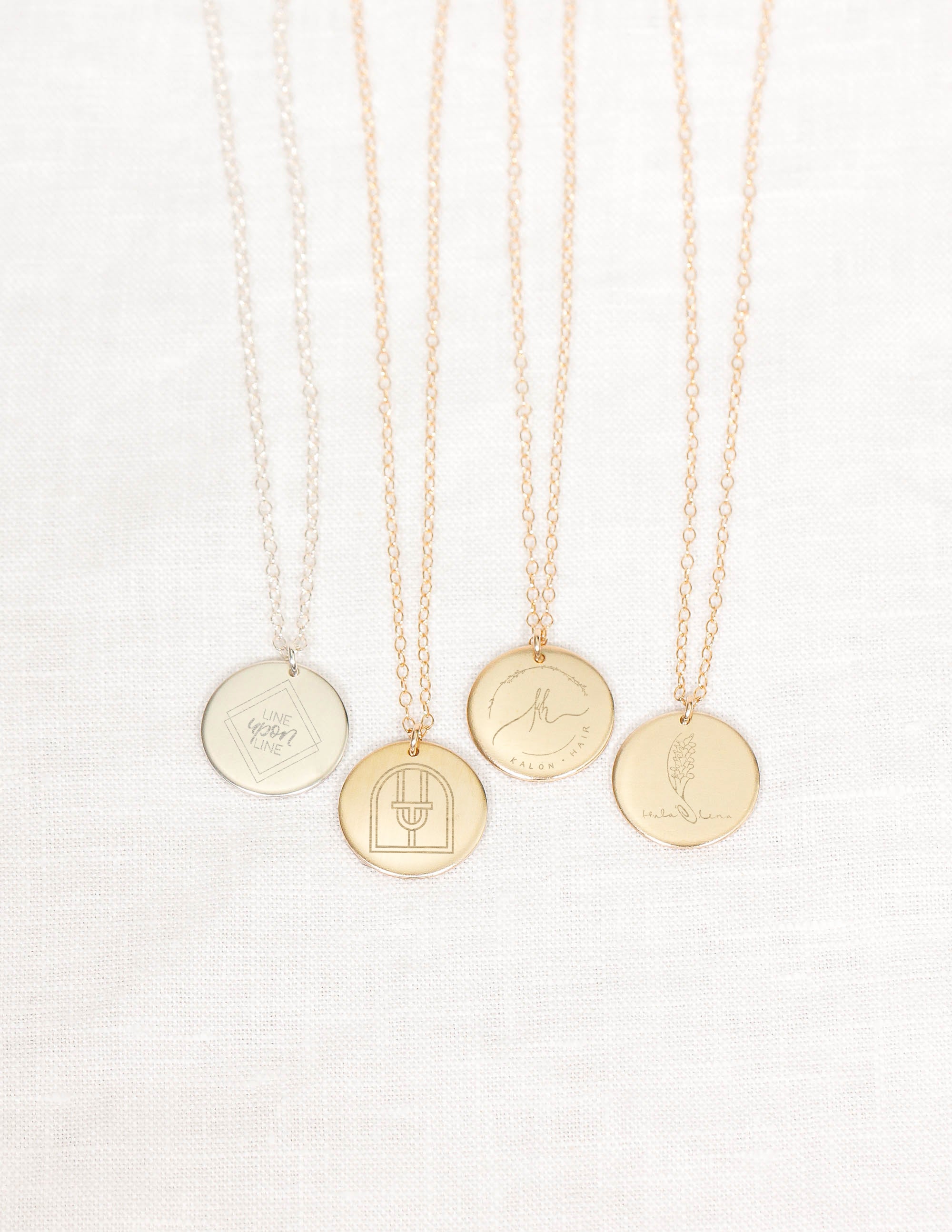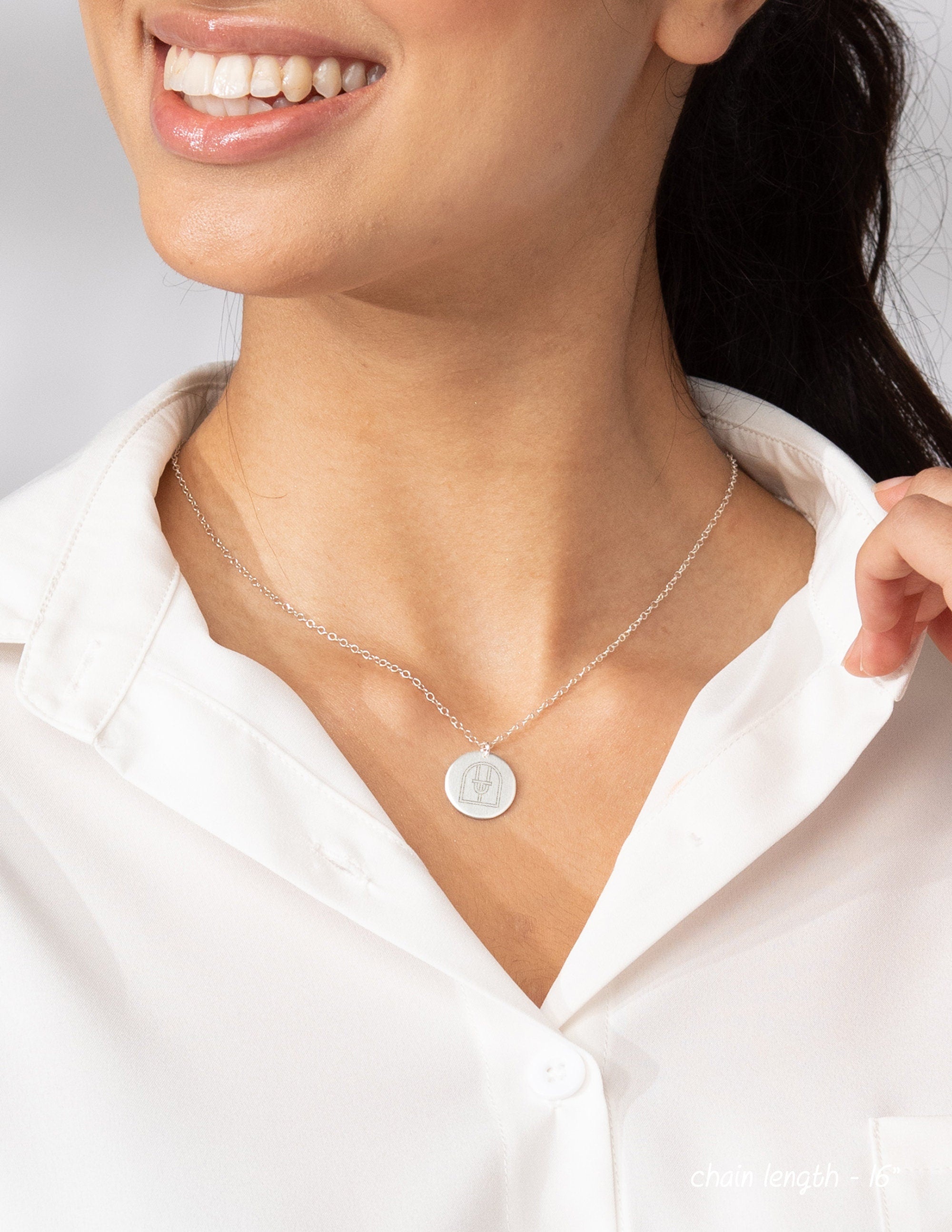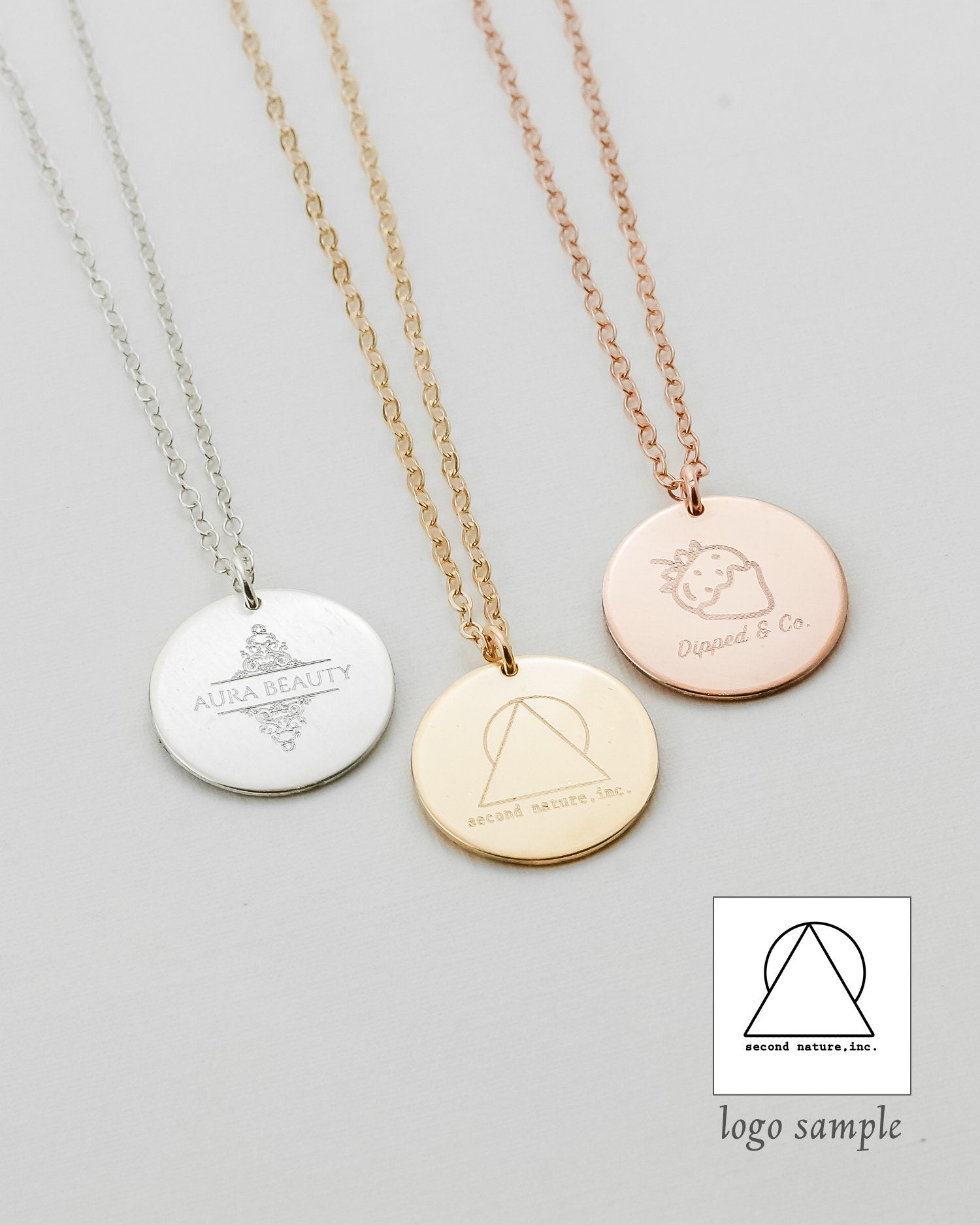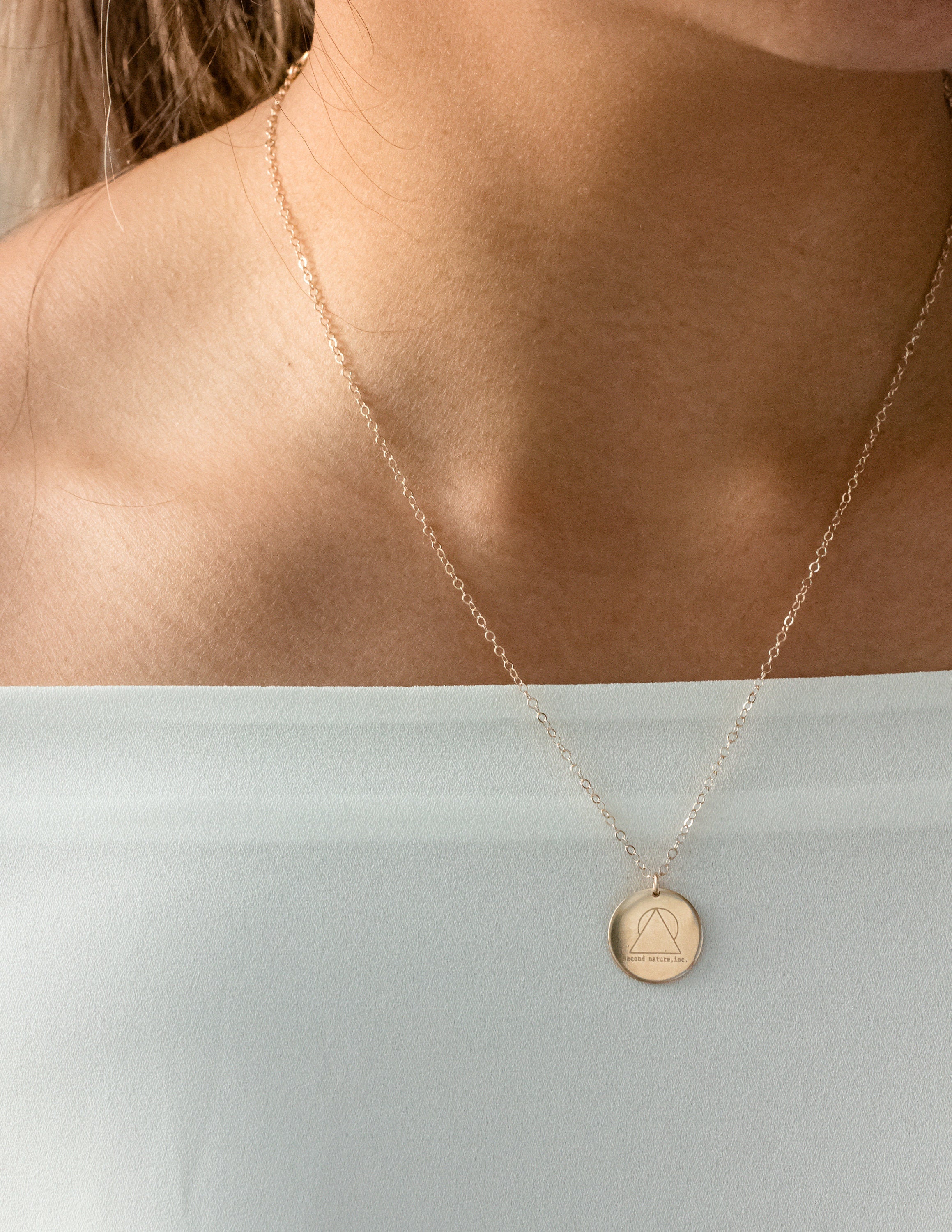 Custom Logo Necklace • Corporate Gifts
Description
A thoughtful gift, personalized with a custom business logo. Perfect for small shop owners or those looking to have corporate gifts made for a special event! Please upload high resolution files for the best results.
Size: 16mm in diameter
Materials
We use thick, premium quality discs and bars with a silky, semi-matte finish. Our chains have a dainty look, yet they are strong and durable. All chains are secured with a spring clasp by default.

925 sterling silver:
A precious metal that will last a lifetime with proper care and cleaning! Sterling silver will naturally tarnish and oxidize. It can be cleaned using a polishing cloth or chemical silver cleaner.

14kt gold filled:
A thick layer of solid 14kt yellow gold, wrapped and pressure bonded over high quality jeweller's brass. It is tarnish resistant and will not flake, chip, or fade over time, making it a fantastic alternative to solid karat gold. Requires the least maintenance!

14kt rose gold filled:
Made in a similar way to 14kt gold filled, except with a little extra copper to give the metal its rosy pink colour. Like 14kt gold filled, it is also tarnish resistant and will not flake, chip, or fade over time.
FAQs
Production Time
Our current production time is 4-6 business days.
How do I submit a photo?
Please upload your photo above, before adding the item to cart. If you have any issues uploading your photo, please kindly email it to us at info@mymilliejewelry.com along with your order number.

Do you have tips for taking a good photo for engraving?
Yes! Please try your best to submit clear and sharp photos for engraving. Outdoor lighting and a pair of steady hands will do the trick!

Will I get to see a proof?
In an effort to get your order to you as efficiently as possible, we are not offering proofs at the moment. However, if there are any issues with your custom order, we will contact you!

Exceptions:
A digital proof is included for those who purchase a Paw Print Editing Fee.


Questions related to shipping & returns, please visit the links below:
4 stars review from Taylor
4 stars review from Taylor
Ultimately, the artwork that I submitted w...
Ultimately, the artwork that I submitted was too intricate, despite the seller (who was very responsive) assuring me that this wasn't the case. I don't think they were being dishonest, I just think my expectations for the level of detail that would show up were too high for a charm of this size - I should've researched a larger charm option. Nevertheless, it's still quite pretty, even if the details of the artwork aren't clear. I'd recommend to potential buyers that they use simple artwork - do that and you'll have a lovely piece (and beautifully packaged.)
Absolutely perfect! So impressed with the...
Absolutely perfect! So impressed with the quality and with the shop's customer service. The shop patiently went back and forth with me to make sure the custom design was exactly what I wanted, and the four necklaces I got arrived in record time. The photo does not do the necklaces justice (it's actually clearer in person and outside the wrap)! I went through dozens of pages of listings for custom jewelry and I'm so glad this is the shop I picked!
This necklace had my logo on it and it was...
This necklace had my logo on it and it was crystal clear. The box it comes in is sleek, professional, and has a classy look! The note inside is thoughtful and includes instructions on how to maintain the jewelry. I am blown away by the details! Will definitely be back for more orders next year!