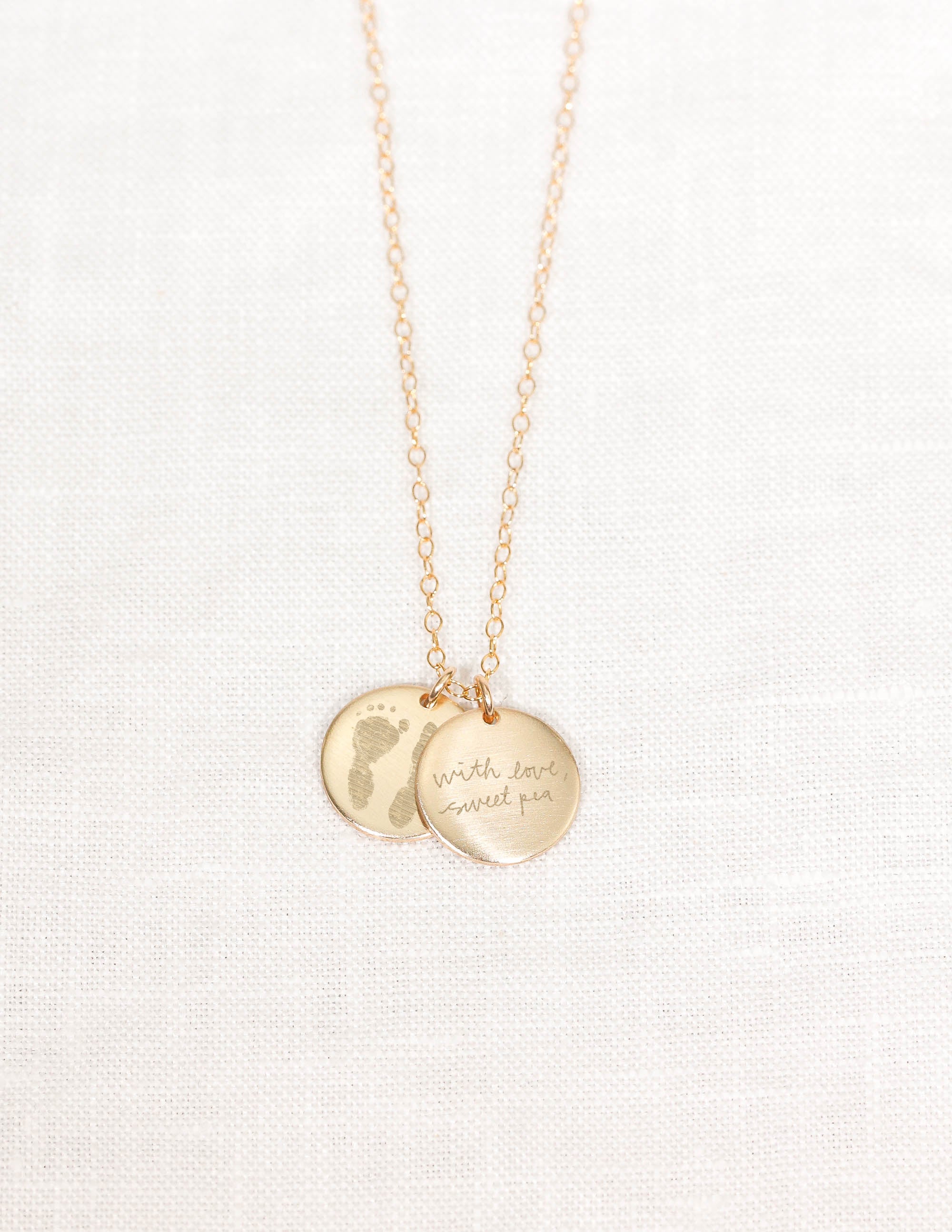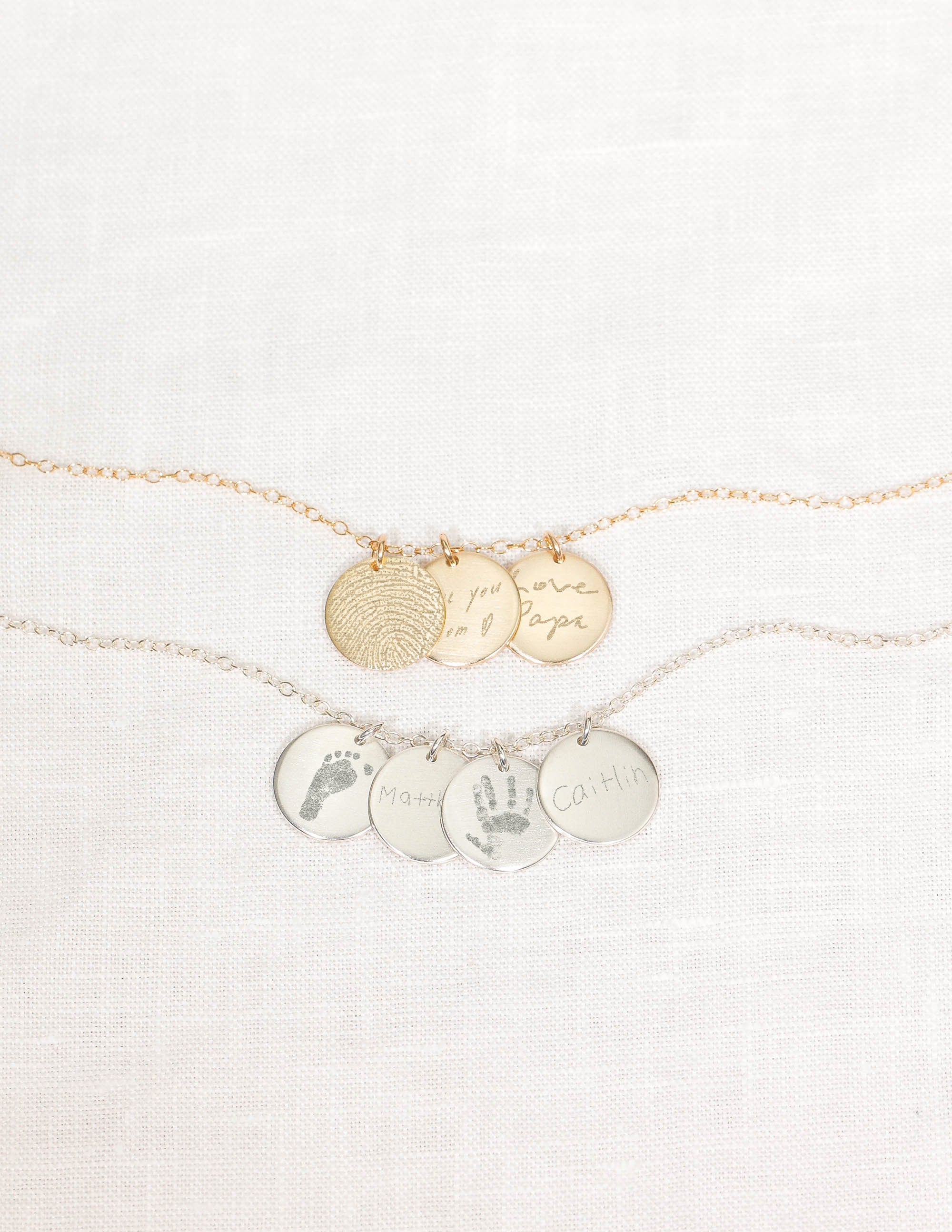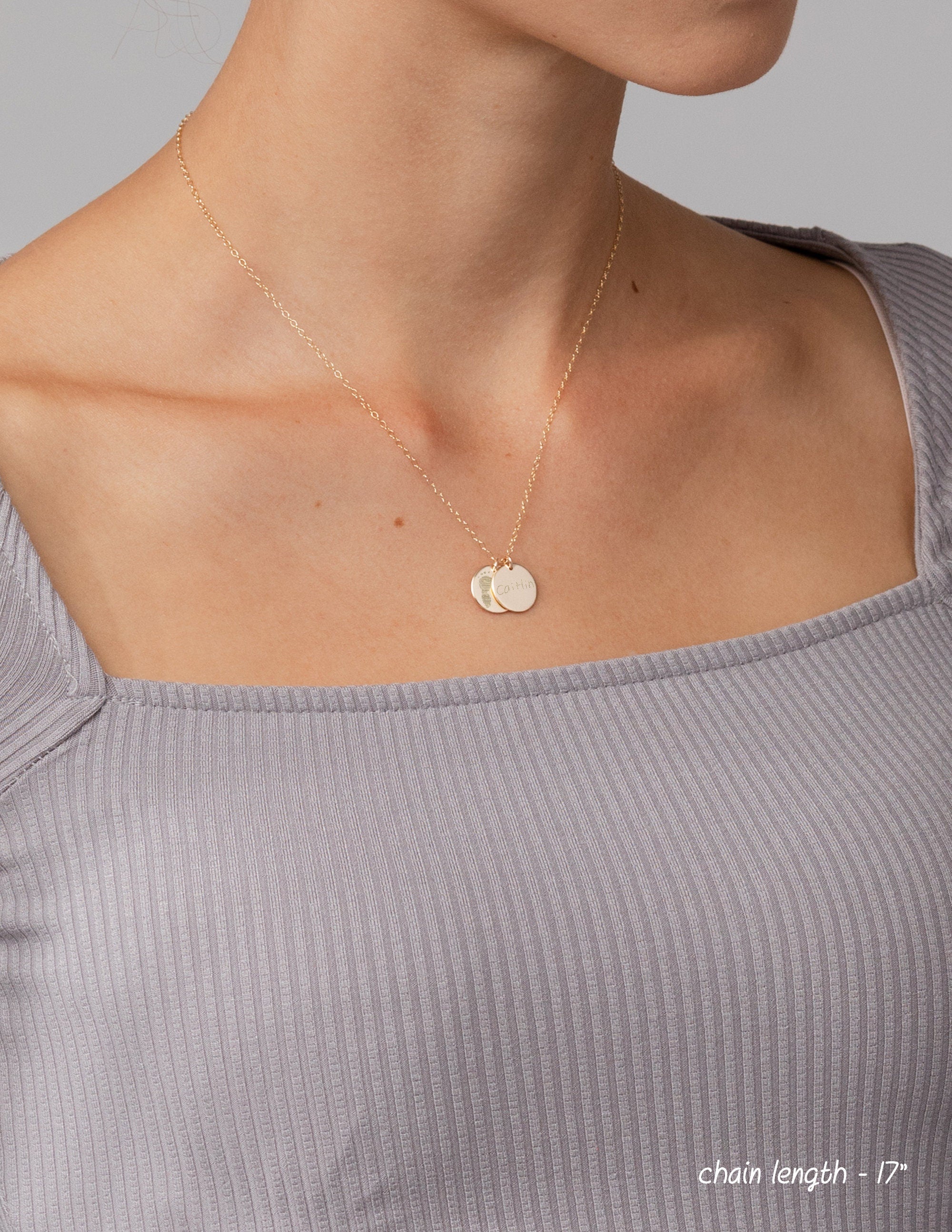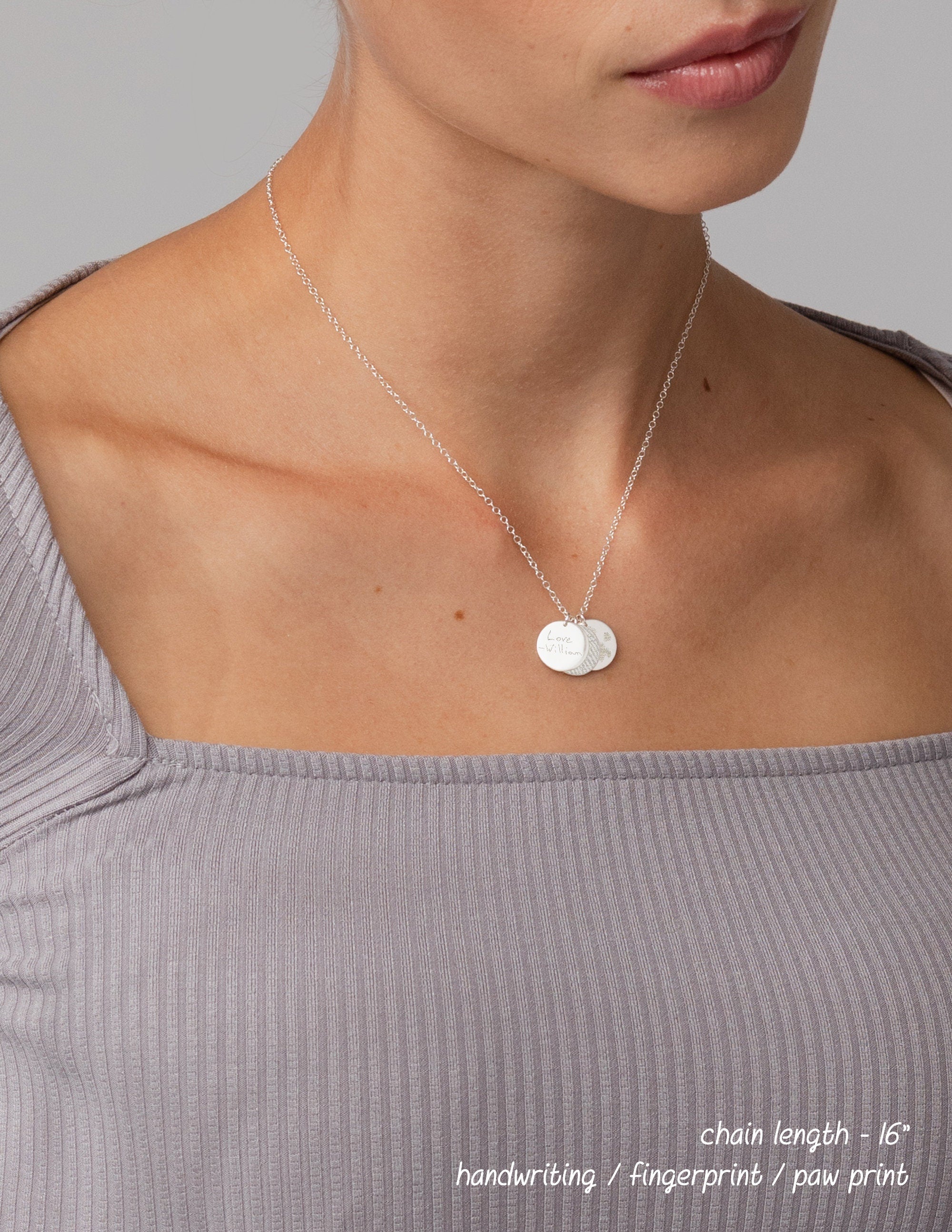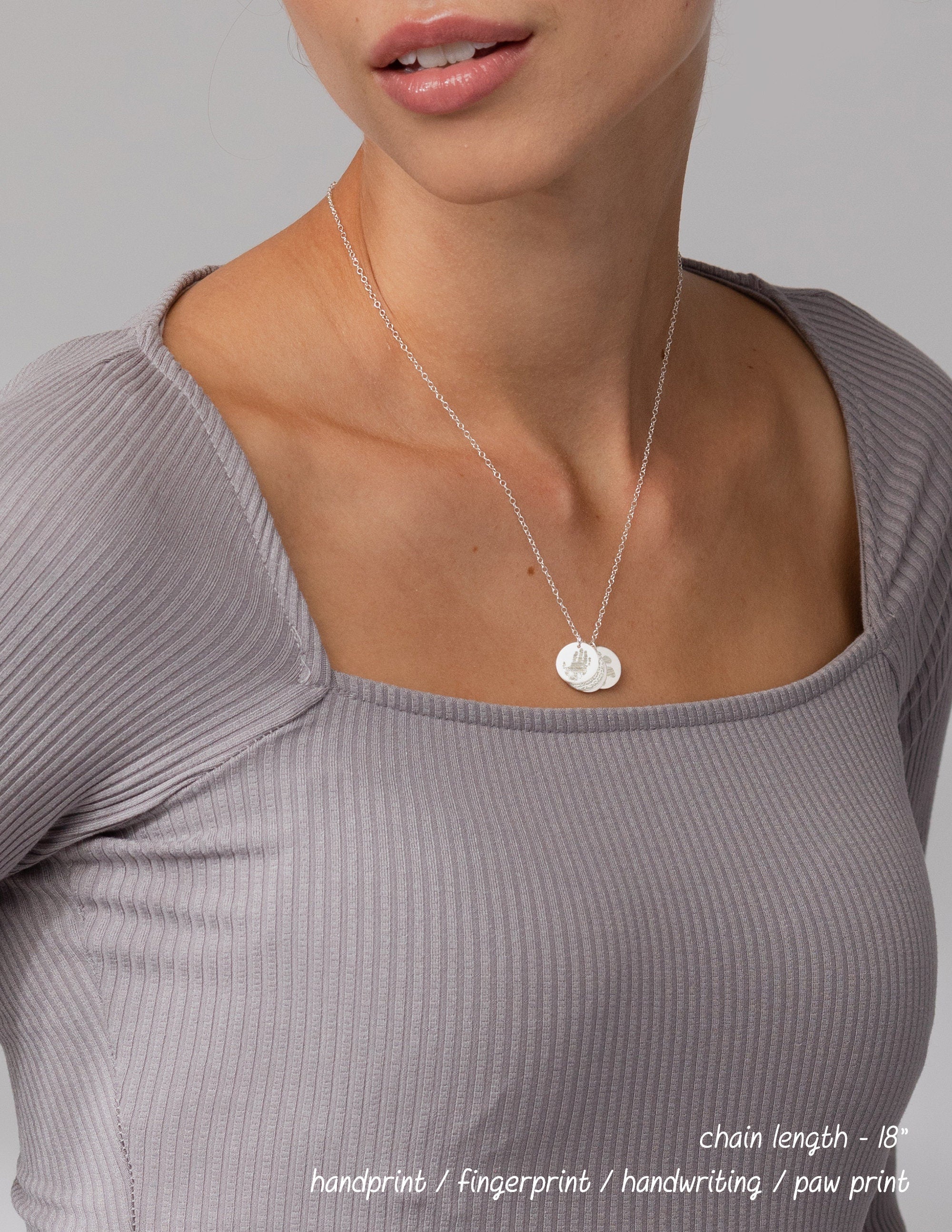 Custom Handwriting Disc Necklace • Multi Pendants
Description
A multi disc necklace, completely personalized to you. Each disc can be engraved with custom images, including hand/footprints, handwriting, fingerprints, inked pet prints, just to name a few. Simply upload the images you'd like to use, and leave the rest to us!
Size: 13mm in diameter

Materials
We use thick, premium quality discs and bars with a silky, semi-matte finish. Our chains have a dainty look, yet they are strong and durable. All chains are secured with a spring clasp by default.

925 sterling silver:
A precious metal that will last a lifetime with proper care and cleaning! Sterling silver will naturally tarnish and oxidize. It can be cleaned using a polishing cloth or chemical silver cleaner.

14kt gold filled:
A thick layer of solid 14kt yellow gold, wrapped and pressure bonded over high quality jeweller's brass. It is tarnish resistant and will not flake, chip, or fade over time, making it a fantastic alternative to solid karat gold. Requires the least maintenance!

14kt rose gold filled:
Made in a similar way to 14kt gold filled, except with a little extra copper to give the metal its rosy pink colour. Like 14kt gold filled, it is also tarnish resistant and will not flake, chip, or fade over time.
FAQs
Production Time
Our current production time is 4-6 business days.
How do I submit a photo?
Please upload your photo above, before adding the item to cart. If you have any issues uploading your photo, please kindly email it to us at info@mymilliejewelry.com along with your order number.

Do you have tips for taking a good photo for engraving?
Yes! Please try your best to submit clear and sharp photos for engraving. Outdoor lighting and a pair of steady hands will do the trick!

Will I get to see a proof?
In an effort to get your order to you as efficiently as possible, we are not offering proofs at the moment. However, if there are any issues with your custom order, we will contact you!

Exceptions:
A digital proof is included for those who purchase a Paw Print Editing Fee.


Questions related to shipping & returns, please visit the links below: